Tracking Trailers
Track one behind the other so you can pull a train of them through the greenhouse or nursery and not worry about cutting corners.


Tracking Trailers Brochure
---
Drop Trailer
Self-unloading tipping style trailer designed for container plants to be easily deposited to the ground in just minutes.


Drop Trailer Brochure
---
ATV Dump Trailer
Big jobs made easier with this small dumping trailer, designed to haul materials from location to location and easily maneuvered for efficient use of time.


ATV Dump Trailer Brochure
---
Toilet Trailer
Single or double stall toilet trailers meet all OSHA sanitary requirements for field and nursery use.


Toilet Trailers Brochure
---
Drip-line Hose Reel
Three point mounted and side facing to allow easy use in and around crops, hydraulic valve for easy operation, and powder-coated for durability.


Drip Line Hose Reel Brochure
---
Hoop Carrier
This innovative machine is designed to transport shade cloth and tarp hoops into and out of fields. Utilizing this machine will help reduce labor, save time and improve field worker safety.


Hoop Carrier Brochure
---
Potting Machine
Pots 500 to 3000 pots per hour on a variable speed carousel and hopper with forward and reverse, and can be fed by scoop tractors or elevators.


---
GK Bait Spreader GK670-10
GK Machine's ATV Bait Spreader is designed for fast and accurate spreading of baits, seeds and trace elements. It is easy to hook-up to an ATV or a UTV with a frame mounted attachment. With 40 feet of spreading width, you can cover a field quickly with the 125 lbs. capacity hopper. There are optional variable speed controllers available.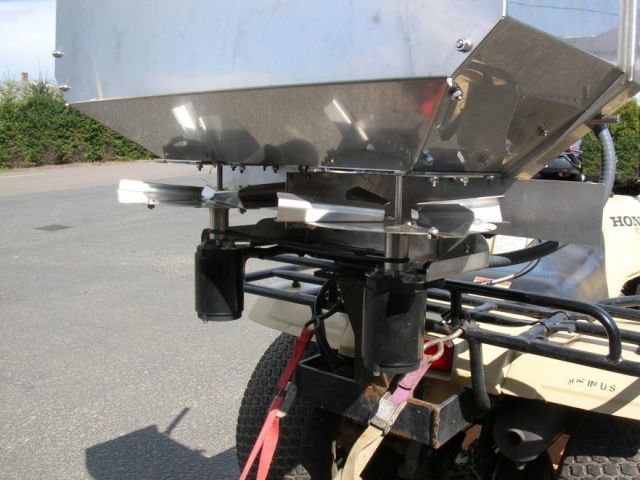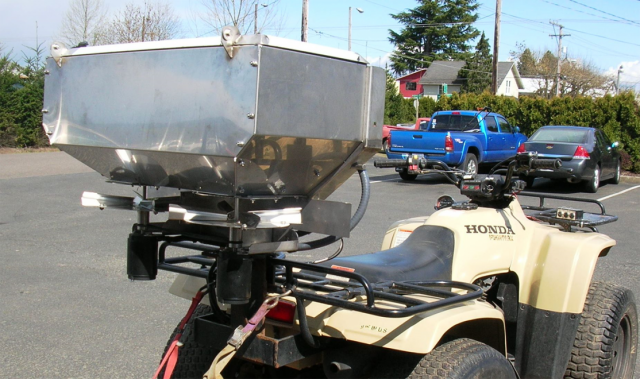 Attaches to vehicle or ATV
12v DC electric motor – 11 amps
Throws 40 feet (20 feet each way)
125 lbs. capacity hopper
Attachment frame-mounts available
Optional variable speed controller
Slug Bait Spreader Brochure
---
GK Spread Pro
The new GK Spread Pro is a professionally designed spreader to easily spread baits, seed, trace elements and various types of fertilizer. The spreader attaches easily behind an ATV/UTV or a tractor and spreads up to 30 feet width. The spreader has a stainless steel hopper and a spinner for easy carefree maintenance. The unique drive system ensures trouble free and reliable operation and the 17" wheels ensure operator safety and stability.
KEY FEATURES:
Stainless steel hopper
Rust resistant powder coat frame finish
30+ ft. spreading width
700 lbs.+ capacity hopper
OPTIONS:
Tarp Cover
Tire/Wheel Options
Stainless steel frame
Controller options available
PRODUCT INFORMATION:
Height: 52"
Length: 92"
Shipping Weight: 500 lbs.*
* Weight and dimensions depend on options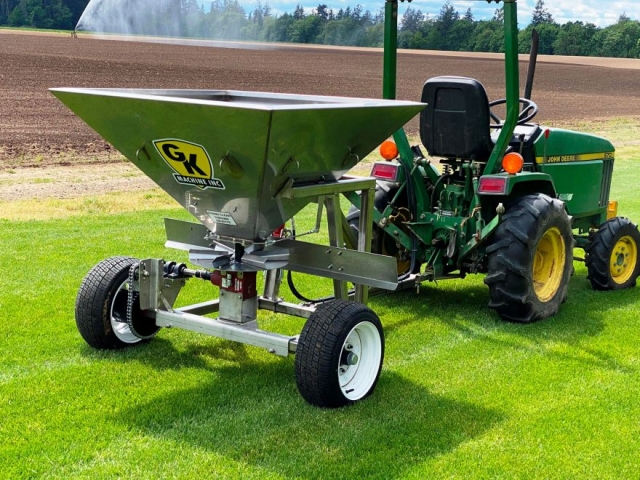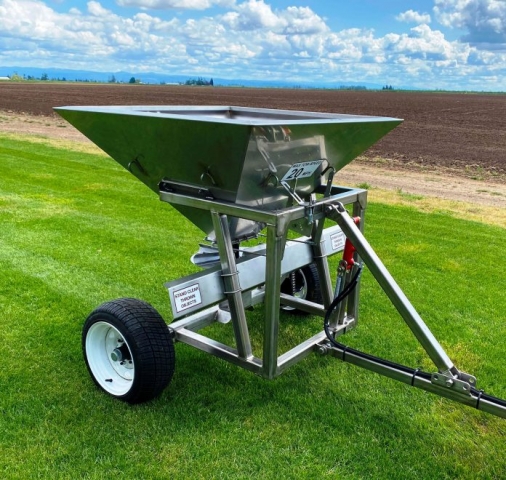 Spread Pro Flyer
---
GK Shade Trailer
The new GK Shade Trailers are built to easily travel from location to location. The shade top folds for transport and won't blow over at the first sign of wind. It weighs approximately 850 pounds and measures 5′ 11″ wide (when folded up) and 14′ 6″ long.
The trailer provides seating for up to 8 people and comes standard with built in garbage can, wood decking and standard 2" ball hitch. The trailer includes space for coolers and/or Igloo coolers to provide plenty of water for outdoor workers.
GK Shade Trailers are in compliance with new Oregon workplace regulations for extreme heat. They offer excellent worker protection for the prevention of heat illness and stress.
Standard station seats 6-8 people
Fixed place for coolers
Heavy duty powder coated steel frame
Overall length 14' 6", with a deployed width of 9' 2" and height of 7' 8"
OPTIONS:
Side panels for additional sun or rain protection
Igloo coolers (up to qty 4) with shelf
Vinyl coated cover tarp (for rain protection)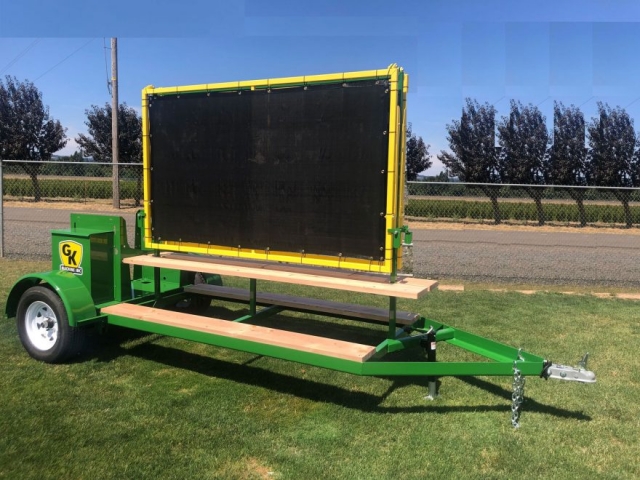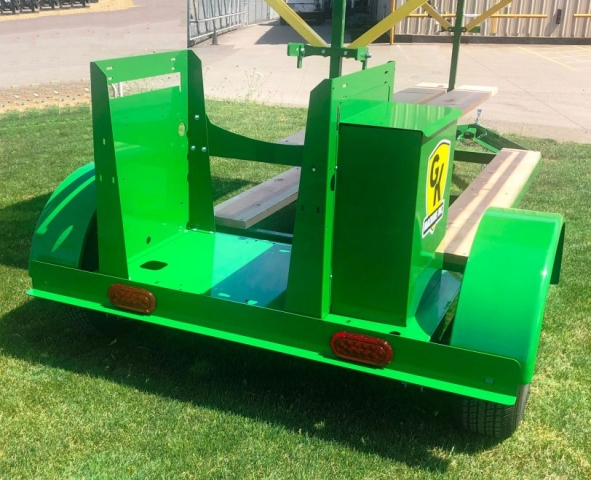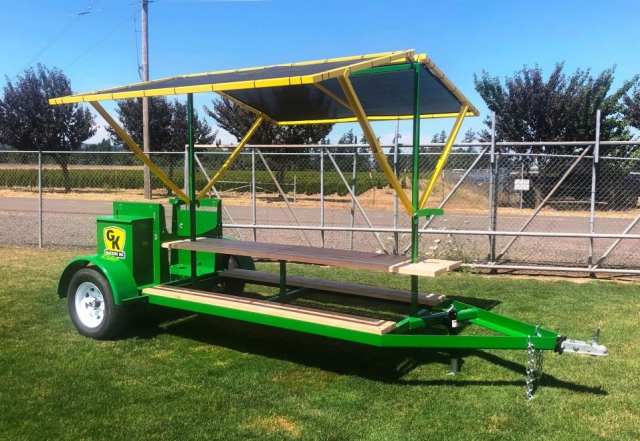 GK Shade Trailer Brochure
---
Irrigation Pipe Trailer
GK Machine's Pipe Transport Trailer is the optimal way to haul irrigation pipe out in the field. This trailer is designed with the pipe hauler in mind, easy to load and unload to get you in and out of the field fast. This trailer is designed to carry up to 1.5 tons of 40′ long pipe and is manufactured using high-strength steel tubing. New materials are used throughout, including the hubs, bearings, and 15" wheels. Powder coated for extra field durability.
Optional: on-board box for fittings, tandem axles


GK Machine now offers a 'utility basket' as an option to the new Irrigation Pipe Trailer. The new utility basket easily holds tools and supplies needed for irrigating fields.
Specifications
Length: 35′
Width: 5′
Weight: 1.5 tons
---
Custom Equipment
GK has made a variety of custom nursery equipment including: soil hopper, trans-planter, planter, pruners, spreaders, diggers, nursery racks and more.